Tomorrow is my third Czech lesson. Yes, I have been procrastinating wildly, but I have at least started.
And my friend and housemate Otto, who has always been extremely supportive of me learning Čeština, has been helping me again with my homework tonight.
Lots of new words. Some I use often enough to stick. I can now make a few different simple conjugations of half a dozen verbs, ask very simple questions, parse a simple sentence with an unknown noun and invert it into a grammatical question while preserving gender. Really baby steps and not much to show for nearly two years here, but I'm making progress.
Alongside the myriad complexities -- I've never studied a language with such baroque grammar; I didn't know the Indo-European family even
included
languages with such complex grammar
*
-- there is also, even with my very meagre vocubulary, the problem of untranslatable words. I've just learned a new one and it's interesting.
The first came with the times of day.
Dobré ráno
= good morning.
Dobrý den
= good day.
Dobrý večer
= good evening.
Dobrou noc
= good night.
So far, so good, right? But no! Because
ráno
doesn't equate to "morning". No, it's
early
morning.
Late
morning is
dopoledne
. This threw me at first, until I remembered an obscure old word, "forenoon", which will sort of suffice for
dopoledne
. It's only approximate, though.
Ráno
starts after midnight and continues until after breakfast sometime, then the later part of the day up until noon is
dopoledne
. Morning and forenoon basically mean the same thing. My Czech-English dictionary doesn't even try; neither does Google Translate.
Untranslatable word. English just doesn't have a word for this conceptual distinction, as far as I am aware. They both map to our "morning" and that's it.
And sausages. This place was part of the Austo-Hungarian Empire. Germanic influence is everywhere. Result, they like sausages. Meta-result, lots of words for sausage. Mostly academic to me -- as a vegetarian, I don't really care -- but it's confusing.
One type is
párky
.
Párky,
as far as I can tell, are frankfurters.
(There are good soya ones, actually. Very good. I wasted a couple of packs before working out how to cook the buggers, though. They come in an inedible plastic skin. You therefore can't fry them -- the result is very nasty and went in the bin. Grilling, ditto. You can't microwave 'em -- they sort of squeeze out of the ends of their skins in a way best described by the phrase "distressingly biological".
I ended up chopping them into bits and putting them in baked beans. That was good but I was spitting out chewed-up lumps of plastic covering afterwards. I presume I also swallowed some. Does polyethylene film count as dietary fibre? Probably not.
I then saw the "real things" being done at a barbeque. You boil them. This works great but then they're a bugger to peel afterwards. The plastic shreds. Imagine a red-hot, well, all right, no, a hot pinkish cylindrical thing -- easy now -- covered in a film that peels off in the the same easy, convenient way as the film on top of a frozen TV dinner. In other words, in an infinited number of sticky shreds. Nightmare.
More recently, I got Otto to read the instructions. You peel the sods
first
. Then it's easy.)
Real párky are traditionally served in a
rohlik
, a white finger bun which is the single most flavourless foodstuff sold over here but nonetheless is a firm Czech favourite. I've seen kids buying a single
rohlik
as a treat. Baffling. They're also eaten with paté or spreadable cheese or honey; flip the bun over, spread it all over the flattish bottom, eat. But people also eat the things dry. On my Bosnian trip, several travellers took huge bags of
rohliky
to sustain them.
So, these are used in Czech hot dogs, but not split as you might expect. No, they pierce them on a spike, a spike that emits steam to heat the bun. Ketchup, mustard or worse still both are then squirted into the unfortunate rohlik's new orifice. Biological similes abound; I will forbear. Then the hot
párek
is shoved into the freshly-lubricated orifice, and we're right back to being distressingly biological again. I will gloss over the nibbling-the-protruding end bit but it can be a mightily distracting sight. Or a disturbing one, when the end gets bitten off.
But they are only one kind of sausage. Then there is the
klobasa
.
Klobasy
are apparently a big bigger than
párky
. I remember them because "Scrubs" taught me that "kielbasa" means Polish sausage. I think it's actually
kiełbasa
but it's Polish so all bets are off. Polish is even more complex than Czech. Yes, really. Utterly terrifying.
Then there is
utopenec
. These are pickled sausages. I had a soya one in a veggie restaurant in Prague and it was excellent. If there are other distinctions, they are unknown to me.
Salam
seems to mean salami. Fair enough.
Špekáček are somewhere between klobasa and salam: quite fat, served sliced. A trampská cigárá
-- tramp's cigar
-- is long and thin. A
talian
is made from offal and I'm not sure I want to know any more.
Czech sausages are a complicated business, and reading about them via Google Translate or indeed in English in general is difficult because
all these terms translate to "sausage".
It's enough to make you go a bit Dr Johnson.
But this evening, I have learned two new words, and this time, I am at a bit of a loss.
The words themselves are relatively straightforward for Czech. They are
květ
(masculine) and
květina
(feminine. Don't ask.)
Put 'em into Google Translate. Go on. I dare you. I double-dare you.
Oh, all right, I did it for you.
Květ
is "bloom" or "blossom" (in the noun senses), in contrast to
květina
which means "flower" (again, the noun.)
Starter for ten: what is the difference, in English, between a blossom, a bloom and a flower? I have a sodding degree in Biology and I am damned if I know. I can explain drupes versus berries versus accessory fruit with engorged fleshy receptacles (strawberries to you). But flowers are flowers. The only significant distinction is flower/inflorescence/compound flower. Ah, would that it were so easy!
"Blossom" tends to refer to trees which produce a large number of small flowers in one seasonal burst, which are readily mass-denuded by wind. Technically, botanically, only of trees which produce stone fruit -- drupes. Technically, apple trees do not blossom, they bloom.
Bloom? Well, a bloom is a flower. A flower is the sex organ of an angiosperm: calyx of sepals, petals, stamens with anthers, styles with stigmata, ovary, receptacle. You know what a flower is. Conifers and ferns don't have them. Most vascular plants do. A flower is a flower is a flower, in the same way that a sausage is a sausage is a sausage. It's the thing that brings pollen to ovule, causing fertilisation, yielding a seed or seeds, inside a fruit.
But not in Czech. A
květ
is, as far as I can tell, a flower borne on the woody stems of a tree or bush, whereas a
květina
is the flower of a small, herbaceous plant, a plant small enough that you could in principle give somebody one in a pot. But this wouldn't apply to, say, a small flowering Azalea, such as I have often given, because that's woody so it's a
keř
, a bush or shrub which could bear
květy.
If it's woody, it bears
kvety
, but herbs
are
květiny
. Or something like that.
I am a tad perplexed. This appears to be a distinction so subtle that even botanists don't make it. But to the long-suffering Otto, it is screamingly obvious which is which, but he can only explain in pictures, not in English.
I think I preferred the sausages.
---
*
OK, yes, Finnish, Estonian, Hungarian, Sami. Dozens of cases; vast, cold and terrifying. But they're Finno-Ugric, in their own group, quite separate, distinct and as unrelated to the Indo-European family as Japanese.
Gives me a chance to include one of my favourite image memes, though...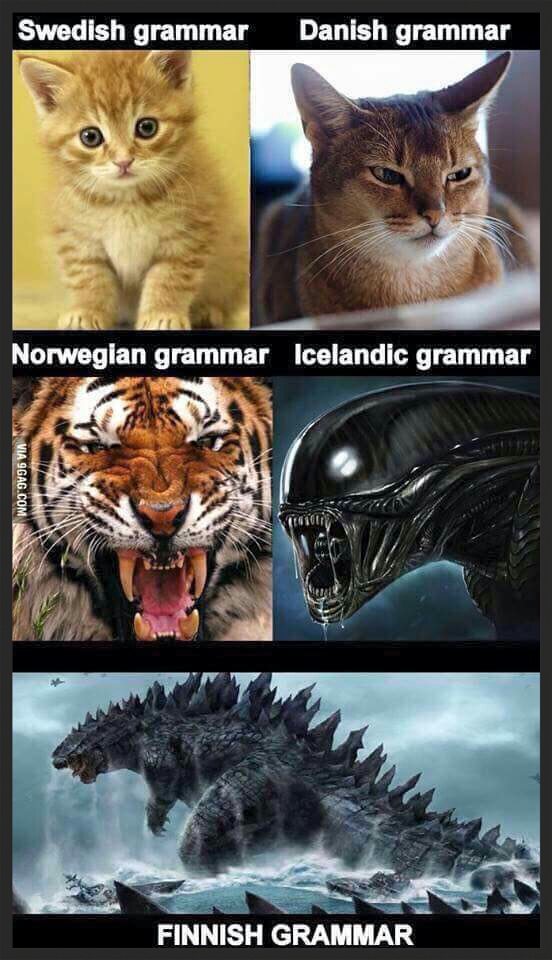 Czech is, I kid you not,
considerably
more complex than Icelandic. It's like trying to cuddle the Alien queen into submission.
Still, it could be worse. It could be Polish. That's like trying to slip her some tongue while you do it.